Belje and Agrolaguna at Grune Woche in Berlin
01. February 2017.
Belje and Agrolaguna have, for the first time, participated at the International green week (Grune Woche) that was held from January 20th to 29th in Berlin. This unique food, agriculture and horticulture fair places the emphasis on the authentic local and traditional products from Europe as well as development of rural areas.
Belje introduced itself with Baranja kulen and Vina Belje at the fair and Agrolaguna with their Špin cheeses and Ol Istria olive oils. All these products are authentic Croatian flavors. Baranja kulen is one of the rare Croatian products that have a protected geographical indication and it presents the gastronomical culture and tradition of Croatian north, just as Agrolaguna's extra virgin olive oils present Istria. Numerous visitors from around the globe had a chance to taste premium delicacies from Croatia along with Vina Laguna and Vina Belje wines.
As Marko Žeravica, export manager at Belje, pointed out: "Presenting at such a renowned fair is an opportunity to present our supreme autochthonous products such as the Baranja kulen and Croatian wines. Since the fair gathers top global producers of traditional products and, as the organizers like to say, it combines tradition with new trends, so we recognized it as an ideal place to promote parts of Croatian culinary heritage. We believe that our guests liked what we had to offer, and that during these 10 days we garnered interest in Germany for our Baranja Kulen and Belje wines while also establishing many new contacts."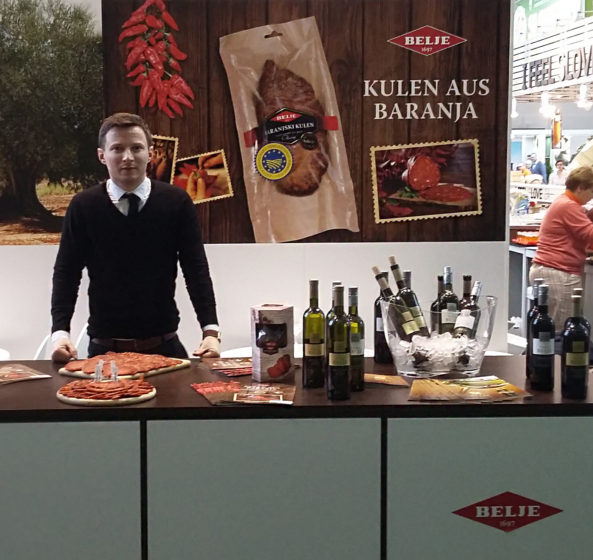 "The fair was very interesting and the visitors showed great interest in our products, especially wines which many of them already know since Germany is the number 3 export market for Agrolaguna, with an annual quantity of 65,000 liters. Since Istria is a favorite destination for numerous German tourists, there was plenty of excitement over our Istrian Špin cheese and Ol Istria extra virgin olive oil", said Marko Kraijna from Agrolaguna.